By Tai Emeka Obasi
WHEN  one of the world's richest men visited Nigeria recently, his firm advice to Nigeria's Federal Government was straight – your Economic Recovery and Growth Plan, ERGP is faulty! Bill Gates was speaking on his last visit to Africa's biggest economy intended primarily at seeing the first-hand progress the country is making on primary healthcare provision, polio eradication, nutrition and financial inclusion.
The American, who is the co-chair of Bill and Melinda Gates Foundation, was speaking at an expanded National Economic Council, NEC, presided over by Vice-President, Prof. Yemi Osinbajo. He added that Nigeria's fiscal situation was at a low equilibrium.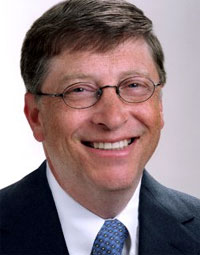 Gates, whose foundation has invested more than $1.6 billion in the country should know what he was talking about. A man whose networth($91 billion) is over four times Nigeria's annual budget is not one any sane person will take his economic assessment lightly.
Expanding, the former Microsoft chairman said: "If you invest in their health, education and opportunities, the human capital we are talking about today, then they will lay the foundation for sustained prosperity. If you don't, however, then it is very important to recognise that there will be a sharp limit on how much the country can grow.''
Gates was talking to state governments too, particularly in the area of Education.
But before Gate's coming, one man has been screaming while making speeches at various platforms and stages about investing heavily in Education. He has been visiting various schools all over the nation and even beyond our shores to preach education, education, education. His constant reminders that our country has unpardonable number of nearly 11million out-of-school children at a time the world is moving from baggage to knowledge economy has become a lyrical song every of his keen followers knows by heart. He doesn't just stop there – this man many describe as one who came far ahead of his generation, makes personal donations of nothing less than N1 million to each of the schools he has visited…and believe it, he has visited many and not planning to stop visiting any time soon. His name is Peter Obi.
But he didn't just wake up to start preaching about getting quality education. He was a governor for eight years and while piloting the affairs of his dear state of Anambra, he didn't spare resources to enhance the schools, adequately funded and provided conducive environment for quality learning. His policy in education was so aggressive that those close to him whispered that nothing gave him more sleepless nights than the continuous battle to completely turn around what he met on ground. And what did he meet? A state ranked 26th in performance rating amongst the 36 states of the nation! Obi was not one who could settle for anything short of excellence, much less below average. So he went to work.
Salaries, gratuities, pensions to teachers were cleared and paid promptly, dilapidated school buildings were renovated and many new blocks built, teachers were getting adequately re-trained and facilities like laboratories effectively equipped. But after two years, the performance rating via external examination results did not improve accordingly. So he took a very unpopular lane – return schools to the original owners – missions. This lane was so lonely that the first time he introduced it at his State Executive Council meeting, nearly 70 per cent of the 30-man committee voted against such move. The state chapter of Nigeria Union of Teachers, NUT, threatened war against the governor for daring to even dream of such.
But with a very assured foresight, the governor put on his diplomatic cap and started wooing, explaining the advantages of such drastic move to the relevant ears. Eventually, he made the announcement, weathered all negative storms, doled out a massive N6 billion to schools to facilitate adequate funding. The highlights of his commitment could be summarised as follows…
Distribution of over 35,000 laptops/desktops to over 450 schools, first time ever in the history of the state; Equipping of over 450 schools with Microsoft Academy, Internet connectivity and power generators; Building, rehabilitation and equipping of over 200 schools with functional science laboratories; Distribution of over 750 brand new buses to schools; Provision of boreholes for over 300 schools; Construction and renovation of over 1,500 classroom blocks with many more under construction; Erection of over 40 new buildings at Chukwuemeka Odumegwu Ojukwu University, Uli and Igbariam Campuses and Nwafor Orizu College of Education; Provision of N5 billion to Chukwuemeka Odumegwu Ojukwu University to improve standards of learning; And many more.
Three years after handing schools over to missions with providing adequate funds to support such firm move, Anambra rose majestically to number one position in performance rating and stayed there until he left office. Three consecutive years!
But perhaps the most striking thing this man many prefer to call Okwute did was how he prepared for continuity of this very laudable landmark before leaving office. Many are now aware that he saved $156 million in three banks before he handed over on March 17, 2014.
Many still ask why save in dollars?
The reasoning behind saving in Foreign Currency was necessitated by a number of issues as follows;  After Mr. Obi's government studied the Chinese phenomenal achievements as the world was coming to the end of MDGs, they learned that the Chinese Regional governments were able to attract a number of investments because of the ability to contribute or partner with the investors in setting up productive facilities within their regions. For example, some of them effectively made equity contributions of 10 – 20  per cent, which they were able to achieve due to their robust savings.
So, for a man attracted to financial astuteness, effective planning and management, Obi and his team calculated that if the state would be able to save a particular amount ($18 – $20 million yearly) as they did in eight years, up until 2030 at the average interest rate of a little over 6 per cent, the state would be able to achieve about $1 billion in savings and earnings. The state would then use about 50 per cent of this amount to attract investment, considering that the average Chinese Small and Medium scale Enterprise, SME, for example, was set up with about $2 million. The  goal under Obi was that if the state would be able to invest 25 per cent in each enterprise, which is $500,000, they would be able to achieve 1000 SME facilities scattered all over the state, which would jump-start aggressive economic growth within the state, especially as income from oil is coming to an end.
Additionally, they were seeking for a 40-year non-interest loan of $120 million from the World Bank, especially targeted at supporting Science, Technology, Engineering and Mathematics , STEM, education and tackling the devastating erosion problem in the state. The idea of $40 million education loan was hatched based on the United Nations report that there would be about 20 million job vacancies in the fields related to STEM studies by the year 2020, and having critically observed the state's solid achievements in education, the World Bank readily agreed to provide this facility while the $80 million was to effectively tackle the erosion menace around the state.
Even though the World Bank approved the $40 million for Education and initial $40 million for erosion, Obi's administration did not draw down from it. These facilities were to kick-start with the government he was handing over and he and his team were certain that savings in foreign currency would help the state in meeting up with her obligations of payment without any impediment to her financial stability.
This is because the state would have so much still left after meeting with the obligations.
Since the state was going to pay this money in the future, Obi and his team carefully projected and started saving. Because the state was going to earn a N1billion by the time the loan matures; $500 million would go to these SMEs, $200 million to education and others, $300 million would be left. Everything being equal, by 2050, the state would be hitting almost $2 billion.
Meanwhile, there would be 1,000 SMEs out there, which about 80%of them would survive, and if they do, they shall be producing for export that would change the state. And more, STEM and other aspects of education would have firmly rooted to have a very vibrant society with very close to 100% literacy level.
This is what Obi planned for his state, saved painstakingly with his team for the future of her children.  Gates was calling for such commitment in the human capital development while speaking in Abuja. Unfortunately, we live in a system where people don't think about tomorrow, don't plan for future generations. Someone  just gets up and say, ''oh they are talking about savings…if I want, I can take all of them, put the state in debt before leaving.''
But with a voice as loud as Gates' firmly calling in tune with the former governor's ideals, it is never late for our various tiers of government at all levels to firmly embrace massive investment in education as a priority policy.
Tai Emeka Obasi wrote in from Ozubulu.
The post Bill Gates, Peter Obi in sync appeared first on Vanguard News.