Michel Eboh
The Nigerian National Petroleum Corporation, NNPC, incurred N45.783 billion as under-recovery on Premium Motor Spirit, PMS, also known as petrol, in the month of January 2018, according to data obtained from the corporation.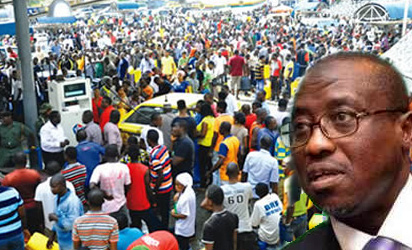 The amount was the highest under-recovery since January 2017, and represented a 192.04 per cent appreciation compared to N15.677 billion recorded in December 2017.
The amount incurred as under-recovery represented 40.97 per cent of NNPC's total remittances to the Federation account in January 2018.
Under-recovery, in downstream petroleum marketing parlance, is when the expected open market price of PMS is below the approved official retail price at the pump.
The expected open price is a combination of the cost of importation and distribution of the commodity, such as marketers' margins, landing cost and freight cost.
The difference with this current system of subsidy payment is the fact that the NNPC is making the payments to itself and not to other oil marketers as was the case in past subsidy regimes, since it had been the major importer and supplier of Premium Motor Spirit, PMS, also known as petrol over the last couple of months.
Giving a breakdown of the allocation of naira proceeds from the sale of domestic crude oil, the NNPC's January 2018 Monthly Financial and Operations Report revealed that the corporation recorded N161.65 billion as domestic crude cost, compared to N112.74 billion in December 2017; it recorded N108.98 billion domestic crude payments and under recovery of N45.78 billion.
The report noted that the NNPC incurred N60.71 million crude oil losses; N1.006 billion petroleum product losses and N5.5.81 billion pipeline repairs and management cost.
It earned N2.75 billion from gas and other petroleum products receipts; N32.09 billion Joint Venture Recovery cost; and N111.74 billion total payment to the Federation Account Allocation Committee (FAAC).
However, the NNPC recorded an operating deficit of N1.56 billion in January 2017, lower than the deficit of N6.81 billion recorded in December 2017.
According to the report, this represents N5.25 billion decrease in trading deficit compared to the December 2017 performance.
The NNPC attributed the improvement to the decreased cost in upstream activities especially the Nigerian Petroleum Development Company, NPDC, and relative decrease in the Petroleum Products Marketing Company's operations cost.
In addition, the report added that the "NNPC Group operating revenue for the months of December 2017 and January 2018 were N406.83 billion and N323.19 billion respectively. These represent 110.63 per cent and 87.89 per cent respectively of monthly budget.
"Similarly, operating expenditure for the same periods were N413.64 billion and N324.76 billion respectively, which also represents 130.22 per cent and 102.24 per cent of budget for the months respectively.
The report further noted that a total sale of N160.20 billion was recorded on white petroleum products, comprising Premium Motor Spirit, also known as petrol; Dual Purpose Kerosene; and Automotive Gasoline Oil, by PPMC in the month of January 2018 compared with N206.43 billion sold in the month of December 2017.
It said, "Total revenues generated from the sales of white products for the period January 2017 to January 2018 stands at N2.024 trillion, where PMS contributed about 84.87 per cent of the total sales with a value of N1.718 trillion.
"A total of 1.14 billion litres of white products were distributed and sold by PPMC in the month of January 2018 compared with 1.648 billion litres in the month of December 2017. This comprised of 995.89 million litres of PMS, 62.56 million litres of Kerosene and 76.83 million litres of Diesel.
"Total special products sale for the month of January 2018 was 115.64 million litres, comprising 32.51 million litres of Low Pour Fuel Oil, LPFO, and other special products of 83.13 million litres.
"Total sale of white products for the period January 2017 to January 2018 stood at 16.39 billion litres, PMS amounted to 14.31 billion litres or 87.29 per cent."
The post Fuel under-recovery rises by 192% to N46bn in January — NNPC appeared first on Vanguard News.