By Innocent Anaba, Abduwahab Abdulah & Bartholomew Madukwe
Lawyers and media  group have faulted the bill before the Senate, which prescribed death by hanging for the offence of hate speech.
Already, the controversial bill has passed second reading.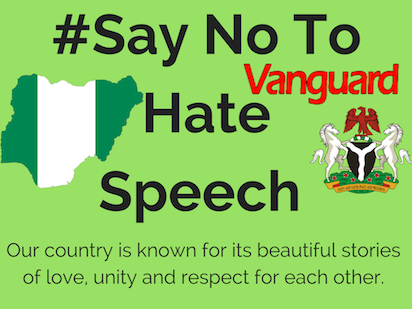 Meanwhile, lawyers, among them Senior Advocates of Nigeria, who reacted to the development, said it portended danger for the country, with Professor Itse Sagay, SAN, saying the bill was unreasonable.
Prof. Itse Sagay, Chairman of Presidential Advisory Committee on Anti-Corruption, PACAC, said the whole thing was extremist.
He said:  ''I don't understand this Senate at all because it is not only extremist but unreasonable and dangerous. How do you define hate speech? Let us start from there. If it is something that has no clear definition, then people will be sent to death on the mere caprice and inclination of a judge? The whole thing is irresponsible. I don't think it is all the senators that are in support of the bill, it could be only one senator."
Prof. Joseph Abugu, Professor of Commercial and Industrial Law, University of Lagos, described the bill as a betrayal of people's trust.
He said: "When government proposes draconian punishment for what one would otherwise consider menial offences, it is the first time of totalitarianism.
"It is unfortunate that this is coming from the Senate, which is supposed to be an appendage of the representative of the people. If the people's representative now believe that by gagging the right to free speech is the best way to go, then we have a lot to worry for in this democracy."
Chief Robert Clarke, SAN, said the National Assembly would, with this bill, destroy the system more, adding that  "the National Assembly is trying to disrupt the system more than how they met it.
"Let me put it this way, it is an unnecessary exercise because if they go through that path, they are going to increase the hatred among the ethnic groups."
What'll be penalty for corruption then? —Tayo Oyetibo, SAN
"What does that mean? If they can go to the extent of initiating a bill prescribing death sentence for hate speech, what about those people found guilty of corruption?
"What of the people who steal the funds meant for the building of our highways that claim lives on daily basis, what will be their punishment? If they are not doing anything on those stealing billions of naira, what is the rationale for the bill on hate speech?"
The idea is very dangerous
—Babatunde Fashanu, SAN
"I do not see it as a good idea. What is the definition of hate speech and what are the parameter to measure hate speech? The idea is very dangerous. If such bill is passed into law, it will be used against political opponents by the executive arms of government, which is to execute the law."
It's highhanded, outrageous
—Chinonye Obiagwu,  National Coordinator, Legal Defence and Assistance Project Limited,  LEDAP
"The bill to punish hate speech with death penalty is highhanded and outrageous. Death penalty has not deterred crime anywhere in the world and four fifth of African countries have stopped using death penalty.
"We can't be looking backwards while the world is moving ahead. There is always likelihood of mistakes resulting in killing a wrong person."
Bill unconstitutional, unlawful
—Carol Ajie, constitutional and human rights lawyer:
"That hate speech bill is unconstitutional and  unlawful to impede on citizen's rights to freedom of speech despite the constitutional guarantee to free speech, a part of our Chapter IV Bill of rights, being hacked off like that, particularly in a mid-sized democracy, under the cover of legislating on hate speeches; when our statute books are replete with provisions that protect our names from unlawful damage i.e the law on libel. Our existing law you know punishes conduct that tend to result in death of others i.e unlawful death.""=
Media group warns NASS against the bill
Media watch group, International Press Centre, IPC, has warned the Senate against going ahead with the passage of a bill now before it which prescribes death sentence for 'hate speech.'
The centre in a statement by Lanre Arogundade, its chairman in Lagos, warned that if passed, the bill would crush the right of Nigerians to freedom of expression as guaranteed by the constitution of the country.
Arogundade advised NationalAssembly to convene a meeting with stakeholders to determine what could be regarded as hate speech.
The post Hate speech: Lawyers, media group fault Senate on death sentence appeared first on Vanguard News.