By Clifford Ndujihe
IGBO Leaders of Thought, ILT, has picked holes in the comments of  Director General of Voice of Nigeria, Mr. Osita Okechukwu, that Igbo presidency instead of restructuring would address marginalisation of the Igbo and to realise the quest in 2023, the Igbo should support President Muhammadu Buhari's re-election, next year.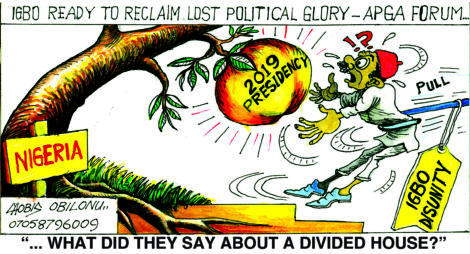 Okechukwu, who  made the comment while disagreeing with ILT on the issue had said: "I am in the know that most of Ndigbo are keen on Nigeria president of Igbo extraction come 2023. The Igbo president in 2023, will in no small measure cushion sulking and wrinkling of hands over marginalisation.''
Responding yesterday, Deputy Secretary of the ILT, Evangelist Elliot Ugochukwu-Uko faulted Okechukwu's position,  saying: ''The infantile narrative that Buhari would grant Ndigbo the presidency of Nigeria in 2023 is a narrative from the pit of hell. When will Okechukwu realise that he is entertaining the humiliated, alienated, much abused but highly intelligent Ndigbo? When will Okechukwu realise that he is merely speaking to himself and probably deceiving his masters in the bargain?
"It is a pity that any time credible Igbo leaders show the way forward in order to save this tottering edifice called Nigeria, only our brethren in the service of outsiders,will quickly rubbish our leaders in their shameless scramble to impress their masters in order to retain their jobs."
Government official spokesmen will keep quiet, government officials from other geo-political zones will also keep quiet in respect of the truth presented by the Igbo leaders, only people like Osita Okechukwu will jump up to rubbish Igbo leaders.''
Related