By Luminous Jannamike
ABUJA – JUSTICE Must Prevail Party, JMPP, has described the wave of mass defections by some federal lawmakers and governors from the ruling All Progressives Congress, APC, to the Peoples' Democratic Party, PDP, as a sign of an impending political upheaval in the country in 2019.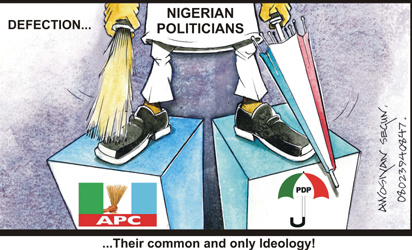 According to JMPP, Nigerians should celebrate the current political imbroglio in Nigeria because it will pave way for the emergence of a better political leader for the nation in 2019.
The National Chairman of the party, Dr. Olusegun Ijagbemi, stated this in an exclusive chat with Vanguard in Abuja on Wednesday.
He said though the country seems ungovernable for President Muhammadu Buhari, the wave of mass defection away from his party does not appear to be targeted at directly scuttling his second term ambition.
However, Ijagbemi described the mass defectors as politicians seeking for selfish gains but also stated that there defection was good omen because their actions will bring about the failure of money politics ahead the 2019 general elections.
He said: "There's a cloud of confusion all over the country and this mass defection marks the beginning of the era of divine intervention in the affairs of Nigeria.
"When a major change in the affairs of a nation is about to happen, evil forces will fight because they are about to lose grip on power. They will do their best to disturb the atmosphere.
"So, it's a period of celebration that a good thing is about to happen to his country.
"All those politicians (defectors) are only out to look for what they can gain. It is what they can benefit that is pushing them from place to place trying to overthrow each other.
"This country has become ungovernable even to Buhari with the way it is today. So, they think Buhari is the problem but he is not.
"God has turned members of the APC against each other until a righteous leader emerges to take the country to where it ought to be. That's why money politics will not work in 2019.
"You can see all the commotion going on but you can't understand the direction people are going."
Related