Wife of the President, Mrs. Aisha Buhari, has  advocated stakeholders' collective efforts at intensifying enlightenment on cancer and ways of preventing the scourgeb in Africa.
Mrs Buhari made the call in a statement by her Director, Information, Mr Suleiman Haruna, after a two-day high-level regional seminar on cancer awareness and advocacy held in Ouagadougou, the capital of Burkina Faso.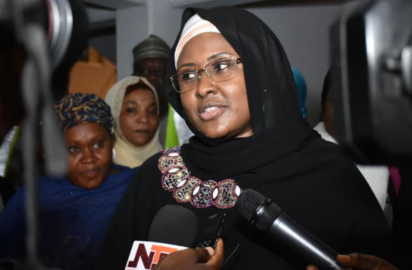 The wife of the president, who emphasised the need to engage more women in the advocacy and fight against the deadly disease, urged participants to take pragmatic steps towards prevention.
She said that cancer remained a major health challenge facing many countries, adding that Nigeria was investing a lot of human and material resources toward the management and prevention of the disease.
Mrs Buhari told participants that the Nigerian government had earlier inaugurated the National Cancer Control Plan and that plan was aimed at guiding the implementation of control activities in the country.
She expressed conviction that the plan would guide her pet project, Future Assured initiative, and other similar non-governmental organisations  in their advocacy and other support activities.
"We have already engaged wives of governors of Nigeria's 36 states for the purpose of cascading the campaign against cancer to sub-national levels in the last three years.
"We have conducted screening for cervical and breast cancers that have attracted thousands of women."
Mrs Buhari said that Future Assured programmes, especially the medical outreaches and educational empowerment programme had benefitted thousands of women, children and youths.
According to her, this is in line with the 2016 Istanbul Declaration on Cancer Prevention which indicated that the rising cases of cancer were attributable to poverty and lack of education
In her remarks, the First Lady of Burkina Faso, Mrs. Sika Kabore, said that the seminar was the result  of a long standing commitment to prevent cancer, especially among women, decrying the rising cases of death from the disease.
"Thousands of lives are lost to cancer every year and most of these deaths are coming from the developing world."
She, therefore, stressed the need to protect the health of the citizenry to ensure the socio-economic development of the people.
She noted that cancer is the second highest cause of maternal mortality affecting mostly women who only require information to prevent it.
Mrs. Kabore said the seminar was a demonstration of a common commitment to fight cancer, especially among First Ladies.
She urged the participants to  intensify efforts at cancer prevention by advocating for strong public policy measures in their countries.
No fewer than 10 African First Ladies addressed the seminar on their national experiences on cancer control.
NAN
Related