Miss Chinaza Uche, Broadcaster.
Outlawing IPOB is equivalent to outlawing all the Igbo, especially the ardently believers, and the South-East in general. It is like outlawing Arewa. IPOB has never come out as an individual or group of outlaws.
Mr. Franz Arinze, Banker
Declarating IPOB a terrorist group is unjust. However, Nnamdi Kanu gave reasons following his unguided rhetoerics and actions. Federal Government's response is like killing an ant with a sledge hammer.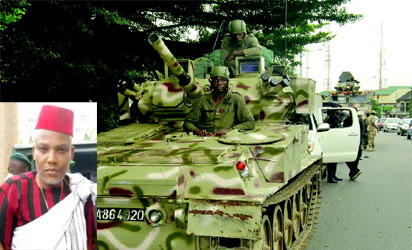 Mrs Morayo Simeon, Self-Employed
It seems Ndigbo were not marginalised under Dr. Goodluck Jonathan. They controlled the economy. The Yoruba, who had almost nothing under Jonathan, never called for the establishment of Oduduwa nation.
Mr. Ikechukwu Akunne, Graduate
WhaT rule in the world is that? Is it brain work and not an emotional outburst? Nwodo remains one of the most intelligent man Igbo race has ever produced; he knows how to present his case for wider acceptability.
Mr. Nomachris Chinonso, Worker
Can someone without arms become a terrorist? Where did they terrorise? Is there any time they even threatened any one? If the answers to these questions are yes, then it is a terrorist group.
Mr. Sanchi Abdullahi, Businessman
Can the Igbo produce a single presidential candidate in 2019 without letting hell loose in their land? Nnamdi Kanu should stop deceiving himself with the struggle because he will be betrayed if Biafra is to be realised.
The post On FG's declaration of IPOB as terrorist organisation appeared first on Vanguard News.