—-Urges govs to embark on voters education
—-As VP says no comparison between APC, PDP
By Johnbosco Agbakwuru
ABUJA – PRESIDENT Muhammadu Buhari Tuesday night said that the Permanent Voters Card, PVC and the Card Reader, were responsible for the victory he recorded in the 2015 Presidential elections after three unsuccessful attempts.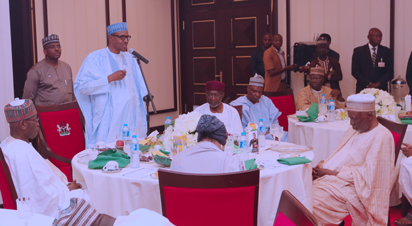 The President also told governors to embark on voters education in their various states on the usage of technology like the PVC and the Card Reader so as to put a final stop to election rigging.
This is as the Vice President Yemi Osinbajo, has said there was no basis to compare the President Buhari-led All Progressives Congress,, APC government in threes years with the Peoples Democratic Party (PDP), 16 years rule.
Prof. Osinbajo also said that those comparing the ruling APC, to the previous party that ruled for 16 years were just confirming that the current administration has done very well.
President Buhari spoke at the breaking of fast with members of the judiciary led by Justice Okukayode Ariwoola, Justice of the Supreme Court, while the Vice President also spoke at a gala night to mark the Democracy Day celebration all at the Presidential Villa, Abuja
President Buhari said, "I find it necessary to invite you because I don't normally see you, I have to repeat what I said having heard what you said. I mentioned that when I was in the military and much younger, we believed things were going wrong and so when I came I took from the president downwards, to Kirikiri against your advise and told them that they are guilty until they prove themselves innocent.
"But we proceeded to have various tribunals to investigate and I can still remember extremely good and fantastic Nigerians, they are few in the society that is why we don't see the impact of fantastic people we have.
"I decided to put agbada and come back, I tried three times and then fourth time I eventually made it. Thanks to God and thanks to technology because this permanent voters card and card readers are fantastic.
"Those who went to their polling booths in their constituency and voted, their votes counted. Before votes were disregarded and results written and there was nothing you can do before the justices to proof your case. But now with technology it has been made easy.
"That is why I keep appealing to the governors to embark on voters education, to please tell the people that their voters card is their national card so to speak.
"Let them vote for anybody they want across ethnicity and religion and impose their decisions on them. I think that is what I am calling on and I am begging the governors to please continue with voters education so that people will take their permanent voters card seriously and make sure that they don't loose it.
"I am bothering you with this because you are in a position of influence and you come from a constituency that is recognized and what you say will mean a lot to the people at your constituency."
Osinbajo said the Democracy Day celebration was was an opportunity to thank God for the journey so far especially after three years in office.
He said he never knew he would be in politics because of the baggage that comes with it.
Osinbajo said the administration has recorded great success and that those who had been in government for 16 years comparing themselves to an administration that was just three years, showed that the administration had done very well.
Also speaking, Secretary to the Government of the Federation, Boss Mustapha, described the evening as auspicious in the sense that it was the third year of Buhari's administration and 19 years of democracy, hence it is important to celebrate.
He said as the administration stepped into its fourth year in office, Nigerians should expect good things to happen.
He said, "As we go into the fourth lap of this administration, good things is about to happened."
According to the SGF, the democracy lecture delivered by former Chairman of the Independent National Electoral Commission, Attahiru Jega, on Monday, was one that will be discussed for a long time.
Mustapha said, Jega spoke truth to power across all divide and that the time had come for Nigerians to begin to tell themselves the truth if the country must experience the desired change.
"The truth Prof. Jega spoke at the lecture will be discussed for a long time. He spoke to all divide, executive, judiciary and legislature. I believe it is high time we tell ourselves the truth if we must experience the desired change."
The event also had cultural troupe presentations as well as special documentary on dividends of democracy 2015-2018 and reception of Team Nigeria that went to the 21st Commonwealth Games, Gold Coast 2018, Australia.
The Minister of Youths and Sports, Solomon Dalung, said the athletes made Nigeria proud at the games both as athletes and ambassadors in disciple and conduct.
He said the team finished ninth out of 53 countries with nine gold medals, nine silver medals and six bronze medals and was the second African country on medal table after South Africa, despite the fact that funds were released late and begun training two months to the commencement of the games.
Apart from Osinbajo, who represented President Buhari, other notable personalities present were, Former Chief of General Staff, Gen. Ladipo Diya(retd) and Commodore Ebitu Ukiwe (retd), the National Chairman of All Progressive Congress (APC), John Odigie-Oyegun and former Chief Justice of Nigeria, Alfa Belgore, no former heads of state, ministers were present.
The event was mainly attended by civil servants, presidential aides and a handful of members of the diplomatic corps.
The post PVC, Card Reader gave me victory in 2015 – Buhari appeared first on Vanguard News.