By Levinus Nwabughiogu
ABUJA-House of Representatives at Thursday plenary resolved to investigate the Customs duties remitted by commercial banks to the Central Bank of Nigeria (CBN) from January 2014 till date.
The aim, according to the House, is to obtain proofs that such remittances were actually made.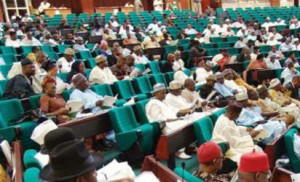 The resolution became possible after members of the parliament considered and adopted a motion titled "Need to investigate the Customs Duties Remitted by Commercial Banks to the Central Bank of Nigeria (CBN) from January 2014 till Date and Proof of such Remittances", sponsored by Hon. Jerry Alagbaoso and 11 others.
Presenting the motion, Hon. Alagbaoso said that banks now delayed the remittances to government revenue despite the implementation of e-payment procedure.
He said: "The House recalls that nearly all the Service Providers of the Nigeria Customs Service handed over their Build, Operate and Transfer (BOT) services to the personnel of the Nigeria Customs Service on 1 December, 2013 and since then, there had been news that commercial banks had remitted billions of Naira in Customs duties to the Central Bank of Nigeria (CBN), which has generated a lot of reactions in the public domain;
"Aware that there is now a regime of E-payment and that all government revenues such as Customs duties, when paid, will be credited to the Central Bank of Nigeria almost instantly or within 24 hours;
"Also aware that Banks now provide online, all the Forms M applied for by importers and so Banks should not delay or hold on to government revenues, especially customs duties, in order to shore up their deposit base, liquidity or balance in their residual accounts or divert or invest them for some quick returns on investment;
"Concerned that some accounting officers in the banks appear to lose sight of the status of approved Forms M and their utilization and in some cases, do not bear in mind the allowable period of non-utilization just to dump the Forms M, which adversely affect the payment of full duties;
"Also concerned that the accounting officers in the banks, in most cases, ignore the difference between the utilization and application of the Form M, thereby negating the CBN's guidelines for forex issuance, Form M and their utilization within an allowable prosecution or litigation period which tends to affect Customs duties negatively".
To this end, the House through a unanimous voice vote called by Speaker Yakubu Dogara mandated its Committee on Customs and Excise to carry out the assignment and report back to the House within 8 weeks for further legislative action.
The post Reps to investigate Customs duties paid to CBN from January 2014 to 2017 appeared first on Vanguard News.