By Ben Agande
Kaduna – The governor of Kaduna state, Nasir El Rufai has engaged the services of 17,000 Village heads in the state to assist the state government to tackle the issue of insecurity as well as mobilise their subjects to fully participate in mobilising their children against child killer diseases.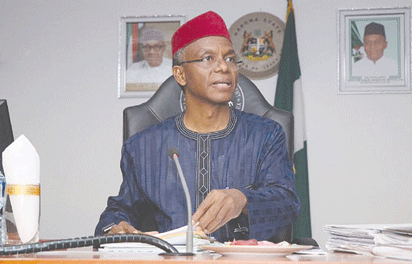 Addressing a press conference in Kaduna, the state commissioner for Local government and chieftaincy affairs, Professor Kabir Mato said the strategic position of Village heads makes them invaluable in government's quest to effectively cover the entire state in immunisation and providing prompt information on security issues.
"Their unique location makes Village and Ward heads such valuable partners in increasing immunisation coverage and improving record keeping at the grassroots. They can mobilise communities to participate in immunisation and to register births and deaths. In addition, they constitute a veritable front line of security information that can assist efforts to provide early warning, thwart threats and enhance peace and harmony in our communities.
" For these roles, the state government has decided to pay a monthly allowance to 17,000 wards heads. This allowance represents a token of appreciation for their roles in complimenting formal government efforts to deliver public goods in the health and security sectors. This move also marks a major landmark in the restructuring of this traditional institution in the state to perform defined roles and deploy its relevance in modern governance " he said.
The commissioner noted that since 2015, "considerable steps have been taken to expand immunisation coverage across the state to give more children what they need to avoid vaccines preventable diseases"
He said the government, with the support of its partners is "steadily institutionalising routine immunisation as a widespread, accessible and primary framework for immunisation. The success of these health protection initiatives for our children at the grassroots depends in the active involvement of village and ward heads. These layers of traditional ruler ship know the residents of their communities, including infants and other vulnerable persons" said.
Each of the village heads is to be placed on a monthly stipend of N10,000.
The post Security: El Rufai engages 17,000 Monarchs appeared first on Vanguard News.