When President Muhammadu Buhari arrived in the United Kingdom in preparation for the Commonwealth Heads of Government meeting, Archbishop Justin Welby, the Archbishop of Cantetbury and the presiding Bishop of the Church of England, who dutifully sat at his bedside when he was critically ill last year and who has assumed the role of his beloved friend said the following: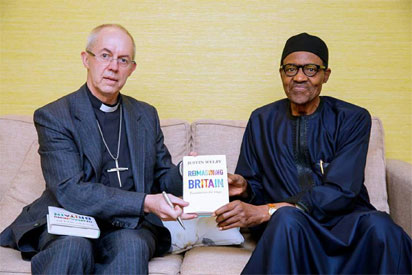 "Mr. President, you have my best wishes on your recent decision. I read your declaration speech. We are neutral as a Church but we will pray for you. Great statesmen are those who run for the good of their country. We will be praying for you".
There is no question in my mind that Welby is Buhari's new-found bride.
As I said in an earlier contribution, it is clear to me that this confused English Archbishop deserves condemnation
What on earth have we done to Justin Welby to deserve this disdain, contempt, insult and mockery? Would he pray that Buhari should preside over the affairs of his Great Britain?
Has the blood of the Christian martyrs and saints that has been shed over the last three years in Nigeria not moved or touched the heart of this so-called Archbishop?
Has he lost all sense of decency and compassion and has the milk of human kindness stopped flowing in his veins?
Has he stopped hearing from God or is he just rebellious and defiant to the leading of the Spirit and the voice of the Lord? As a matter of fact did he EVER hear from God?
Since when did the Church of England and the Archbishop of Canterbury sink so low
This is a man who has refused to label the Fulani herdsmen terrorists and who has publicly identified with some of the core values of Boko Haram and defended them on numerous occasions over the years.
You say that you are neutral as a Church yet you keep having photo-ops and closed-door meetings with Buhari and you refuse to condemn him for his human rights violations, his attacks on and marginalisation of adherents of the Christian faith, his contempt for the Church and his hatred for non-Muslims and non-Fulanis. I say shame on you!
The attempt by the British government and intelligence agencies, using a discredited and out of touch ' Archbishop Justin Welby, to help to prop up and legitimise a failed ruler who hates non-Fulanis, Shia Muslims, IPOB youths and Christians, will fail.
Permit me to go further by putting the following questions to the Archbishop.
Is it any wonder that many Anglican denominations all over the world, including Nigeria and Africa, severed ties with and renounced the English branch of the Anglican Church over ten years ago because of your love for homosexuals and gay marriage and other grave doctrinal violations of the Holy Scriptures?
I have nothing but contempt for your weakness and inability to preserve and protect the gospel and true teachings and beliefs of Our Lord and Saviour Jesus Christ
Your love for your Buhari does not surprise me.
I do not expect any better from you because I know how flawed, and out of touch with reality you really are but because of your station in the Church and reverred calling others may well do. Consequently I am constrained to put the following questions to you.
Have you asked the Christian Association of Nigeria (CAN) what they and the 120 million Christians that they represent have been going through since Buhari came to power?
Do you know how many Christians are killed on a daily basis in Nigeria by security forces and state-sponsored Fulani jihadist militias?
Have you asked the Anglican Communion in Nigeria what Christians have been going through in our country under Buhari?
Have you asked the Methodists, the Baptists, the Catholics, the Evangelicals, the Pentecostals, the Cherubim and Seraphim, the Apostolic Church, CAC, ECWA, COCIN or any other Christian denomination in Nigeria what their members have witnessed over the last three years?
Have you sought the counsel of the National Christian Elders Forum (NCEF) and found out from them precisely what the overall objective and long-term plans Of Buhari's government is for Christians in Nigeria
Have you read the excellent article titled "Nigeria and State Complicity With Terrorists" by the British security analyst Dr. Ann McGregor which makes a compelling case about the collusion and strong collaboration that exists between the this government and the Al Barnawi-faction of Boko Haram?
Do you know how Christian officers are treated in the security and intelligence agencies and in the Armed Forces in Nigeria?
Do you know the indignities that they have been subjected to and do you appreciate the fact that they cannot speak out due to fear of sanctions and reprisals?
Do you know that every single one of the para-military, security and intelligence agencies in Nigeria and every branch of the Nigerian Armed Forces except for the Navy is headed by a northern Muslim?
Are you aware of the fact that the Trump administration, through Vice President Mike Pence of the United States of America, has described Nigeria as "the most dangerous place in the world for Christians to live?"
Do you know that they are absolutely right about that?
Do you know that thousands of Shiite Muslims and Igbo youths have been have been killed in the last three years?
Do you know that Amnesty International has accused this government of heinous human rights violations and mass murder?
Do you know that Transparancy International has accused this government of indulging in more corruption than any other government that came before him?
Do you know that the IMF has said that more people are hungry under this government than any previous administration?
Do you know that President Olusegun Obasanjo, President Ibrahim Babangida, President Goodluck Jonathan, General T.Y. Danjuma, Vice President Atiku Abubakar, the leaders of Afenifere, Ohaeneze, The Middle Belt Forum, the Niger Delta elders and countless other leaders across political party have condemned Buhariand asked him not to come back?
Do you know that 808 Christians were murdered in their homes by Fulani herdsmen on Christmas eve and Christmas day alone in 2016?
Do you know the terror the Christians and indigenous people of Taraba, Benue, Plateau, Adamawa, Kogi, Kwara, Nassarawa, Niger, Enugu, Abia, Anambra, Oyo, Ogun, Ekiti, Oshun, Delta, Edo, Akwa Ibom, Cross Rivers, Imo, Ebonyi, Lagos, Zamfara and others have been subjected to by killer herdsmen in the name of cattle-herding over the last three
Do you know that not one Fulani herdsman has been brought to justice in the last three years by your friend even though they have slaughtered hundreds of thousands of innocent and defenceless Christians and non-Fulani Muslims all over the country?
Do you know that they enjoy official protection and support from this government?
Do you know that your friend once said that Boko Haram should not be wiped out and that "an attack on Boko Haram is an attack on the
Do you know that your friend hates the Igbo people of south-eastern Nigeria who are predominantly Christians? Do you know that over 2 million of the Igbo, including 1 million children, were slaughtered by Nigerian forces in that war
Do you know that last year he declared IPOB, an Igbo organisation who believe in the right of self-determination and the establishment of Biafra, who do not have an armed wing and who have never carried arms, killed anyone or indulged in any form of violence, as a terrorist organisation?
Do you know that he "disappeared" Nnamdi Kanu, the leader of IPOB and in the process killed many people in his house?
Do you know that he has locked up Sheik El Zak Zaky, the leader of the Shiite Muslims in Nigeria, indefinately and against court orders.
Do you know that he has detained Col. Sambo Dasuki, a former National Security Advisor, a reasonable, moderate, civilised, urbane, cosmopolitan, liberal and blue-blooded Fulani Prince of the Sokoto Caliphate and a man whose only crimes are that he served President Goodluck Jonathan diligently and that he presents a credible and potent threat to your friend's government and 2019 ambitions?
Do you know that your friend has not only given Boko Haram millions of dollars in ransoms over the last three years but he has also released ALL their key commanders and granted them amnesty?
Do you know that your friend's Minister of Information, one Lai Mohammed, once complained that Boko Haram should never have been proscribed in the first place
Do you know that northern and Middle Belt Nigeria is in a state of undeclared war and that thousands of people are slaughtered by Fulani herdsmen
Finally consider this.
President Donald Trump broke the news to the world that American, British and French jets were on their way to bomb Syria on the morning of 14th April he asked the following question:
"To Iran and to Russia, I ask: What kind of a nation wants to be associated with the mass murder of innocent men, women and children?"
The post The Archbishop of Canterbury, President Buhari by Femi Fani Kayode appeared first on Vanguard News.